Hello hello! At long last (okay…it's only been 3 weeks!), I finally have pictures of my "new" Master Bedroom.
Three weeks ago, I gave myself a challenge to makeover my Master Bedroom using only $150 and items I had on-hand. You may also recall that just when I decided to do this, we also found out that we are moving again in 4.short.months.
Since I suddenly had about a bazillion other things I should be doing rather than re-doing a bedroom we're living in for so short a time, my makeover became much smaller in real life than it was in my head! And I was dreaming big, people! I was going to cover the wall behind our bed with this awesome green and black fabric, stencil a plain duvet cover, spray paint our wicker baskets and…the idea list went on and on and on. But it occurred to me that not only did I not have the time for so many projects…but since I've not picked out a color scheme (or even a direction) for our next home, a lot of this effort would potentially be going to waste!
Therefor, I decided THIS makeover, instead of being big, bold and beautiful, would instead be a "return to neutral." Not only did this plan rid my bedroom of the orange and pink I was so sick of, but it provided me with a clean slate that will (hopefully) translate to a new color scheme in our next home. Maybe I should have called it a Master Bedroom Facelift, instead!
So without further ado…here are some before and after shots!
From just looking at these pictures, it almost looks like I just edited my photos to be a different color scheme – lol! Trust me – these changes are real! I simply kept all the basic elements the same and made some super easy (and pretty effective!) swaps.
So what about that $150 budget? How did I use it?
(top left) new taupe suede curtains from IKEA (these are the same curtains that match the rest of my house)
(top right) this dramatic duvet comforter and shams were on sale online at Target
(bottom left) I picked out this Waverly fabric on the bolt but it was $35/yard..what luck to find a remnant 50% off by the cutting table…I love how the french script ties into the decal pattern on the wall!
(bottom right) new damask sheets purchased from TJ Maxx
And the rest of the changes were all accomplished with items I had on hand!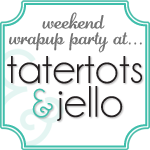 Posted In Other