Lion-Themed Baby Gift Set
My girlfriend had a baby girl back in December (I swear that was just yesterday!?!). Christmas decoration- and gift-making got me distracted, so I just finally finished a fun "Welcome to the World" gift for her (shame on me!). It turned out so adorable, though, I hope she forgives me 😉
It's a two-part coordinating gift! First up: a baby-sized flannel patchwork quilt!
I used seven fabrics to make this quilt:
The whole gift idea started with the Urban Flannel set (pictured below). I bought that set at a quilt show – 5 yards for $30 – score! I wasn't sure what I'd do with it then, but I tucked it away in my stash for just the right project.
When my girlfriend picked a name for her daughter starting with "L" AND her nursery theme was Noah's Arc, I knew exactly how I could put those fabrics to good use! Since the 5 green flannels were a bit one dimensional, I added some of the Ta Dot Ocean flannel that I had on hand from my son's nursery (I know, I STILL haven't posted pictures of it yet – they're coming, I promise!). Finally, I used some plain green flannel (that I also had on hand!) for the back!
I haven't made a ton of quilts, but from my experience with some other fabric/color mis-haps, I've learned that it pays to get an idea of what a finished project might look like when it's all put together. (I hate putting something together to then find out that certain fabrics shouldn't be next to each other or some things really don't match!).
Since I wasn't going to follow a quilt pattern (I hate patterns, remember? I'd rather do my own thing!), I decided on a very simple patchwork design. I wanted to really show off the lions, so I kept it pretty basic! I don't have any fancy quilting software, so I used my digital scrapbooking software to generate a picture and pattern that I could follow as I worked! Not only did this give me a good look at the final product, but also kept me on track as I worked!
To make the quilt, I cut out 25 8″x8″ squares. I took special care to "fussy cut" the lions, and used the non-lion parts of the fabric in other squares. I then sewed 5 squares together in a row, then sewed the rows together until I had a 5 square X 5 row square! To finish it off, I used cozy green flannel on the back and a coordinating green stripe flannel for the binding. I "quilted" the blanket using simple diagonal lines in both directions. With the help of my mother's embroidery machine, I also added a tag on the back. I think these little touches made the quilt extra special!
I absolutely adore how this little quilt turned out. Those lions just make me so happy!
The second part of the gift was this cute little pull toy, inspired by a
picture
I found on
Pinterest
!
Again with the help of my mom's fancy machine, we embroidered this cute little face on some cozy white fleece. I then used a bunch of coordinating ribbons around the outside. I filled it with some crinkly paper and lined the back with matching green flannel!
Together, they make the cutest cordoning baby set, don't you think?
For one last finishing touch, I used my digital scrapbooking software along with a digital image of the lion fabric to make a cute little card for the package! See how the face and feet are the same as the fabrics in the quilt? Aren't I just so clever (kidding…kidding…)
It's all wrapped up and ready to go! I hope Baby L likes it!!!
I've linked this post to:
Frugalicious Fiday
Pretty Packages Party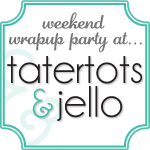 See You Soon!
Megan